About ISSAM
The International Society for the Study of the Aging Male (ISSAM) was formed and incorporated in the United Kingdom in 1997 with the objective of promoting research, study and education on all matters relating to men's health after the age of 30.
The Society aims to encourage physicians and other health-care professionals to understand male illness in the context of the aging process as a whole and to adopt a multi-disciplinary approach to caring for male patients. More specifically, the Society sets out to promote the concept of healthy aging.
We are pleased to announce the suggested Update for the 2014 ISSAM recommendations: Investigation, Treatment and Monitoring of late-onset Hypogonadism in Men have now been published online in The Aging Male. Please visit: http://informahealthcare.com/doi/abs/10.3109/13685538.2013.853731
Professor Bruno Lunenfeld, Editor-in-Chief of The Aging Male, welcomes your comments and thoughts on the suggested updates described in the Editorial. Send a 'Letter to the Editor' directly to the journal by mid-March 2014*. Please submit here: http://mc.manuscriptcentral.com/dagm.
Society's peer-review journal is The Aging Male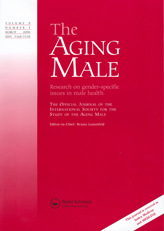 Please click on the image to go to
the Society's peer-review journal is The Aging Male
Past Congresses
The 7th Congress
Russia, Moscow Region, 29 November - 1 December 2013
The 6th Congress of APSSAM
Busan 1-4 Sept 2011
The 5th Congress of APSSAM,
Osaka, Japan, October 15-18, 2009
The 2nd European Congress on the Aging Male,
Budapest, Hungary, September 3-4,2009
The 6th World Congress on The Aging Male,
Tampa, FL, USA, February 21-24, 2008
1st European Congress on the Aging Male
Warsaw, Poland June 14-16, 2007
2nd CSSAM/ISSAM North American Congress on the Aging Male
Montreal, QC, Canada, February 8-10, 2007
5th World Congress on the Aging Male
Salzburg, Austria, February 9-12, 2006
CSSAM / ISSAM North American Congress on
The Aging Male
Vancouver, Canada, February 2-5, 2005
The 4th World Congress on The Aging Male
Prague, Czech Republic, February 26-29, 2004
The 3rd World Congress on The Aging Male
Berlin, Germany, February 7-10, 2002
The 2nd World Congress on The Aging Male
Geneva, Switzerland, February 9-13, 2000